Rosabella
Rosabella the unique real stabilised rose, embellished with Crystals from Swarovski. It does not need water, it does not need sunlight; it is a stabilized rose. It is a flower that, thanks to a specific treatment, is stabilised and its ageing is blocked at the moment when it was cut to allow its original characteristics of beauty and freshness lasting for a long time.
It is a completely Natural flower: every rose is real, in every single part of it and for this reason different from all the others, beautiful for that. The natural beauty of this rose is its peculiarity in every single detail, like for example the type of leaves, the bud' shape, the petals consistency, that make it unique.

Rosabella is a product Crystal Design and is a registered brand of GUERRA I E s.a.s. This is to protect our product original idea and the name from imitations and abuses and to guarantee more safety to the customer, who can be sure of the product he is buying.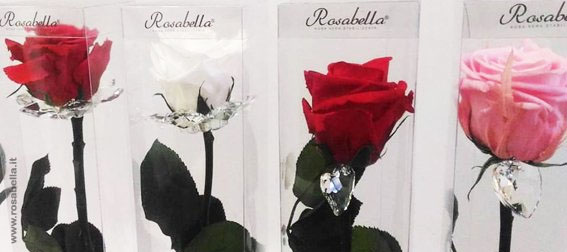 It 'available in different types: rosa stem with artificial or natural stem comes in two sizes 26cm or 55 cm, or in the crystal version jar. For each type, we have developed many variations. Therefore, please be wary of imitations, and regularly look at our website or related social pages (Facebook / Twitter / Pinterest) to make sure you have purchased one of our products and to stay current on outgoing news.
Following this link you can find the entire collection:
http://www.crystaldesign.it/index.php?mod=Collezione%20Rosabella You can be sure you are buying Rosabella:
- if the product is presented with one of the graphics of the following communication or one of these exhibitors above, and the Rosabella logo is always clearly visible on both the individual product is in the product presentation box;

- if each product is accompanied by a guarantee certificate attesting the use of original materials and crystals from Swarovski;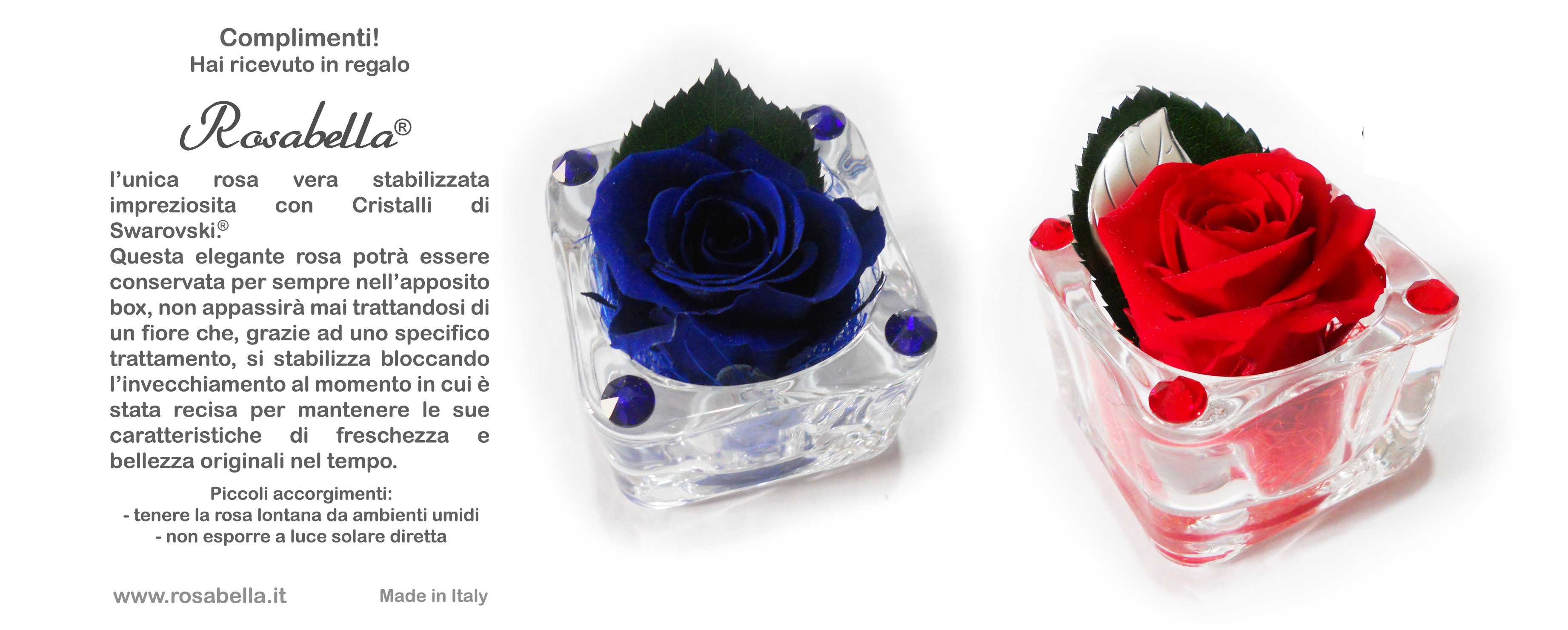 - if each product is packaged in transparent box to display and store all its beauty.

Each creation Rosabella is glamorous, a perfect and complete thought, to be gift and amaze those who receive it. You can find the collection Rosabella in our stores throughout Italy.