Rosabella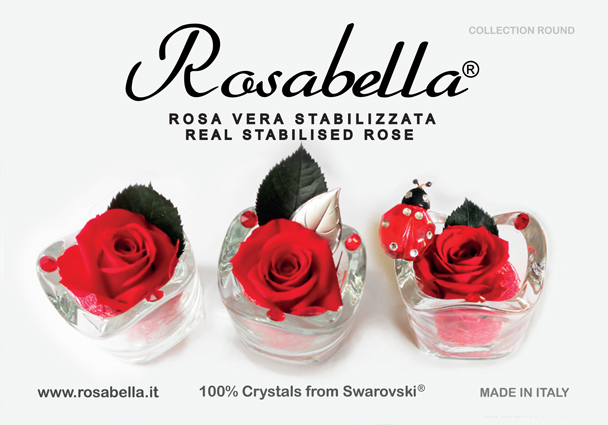 This little jar, on which rain down crystal, Swarovski rhinestones multicolor is a must-have from ROSABELLA collection's. Multicolor Swarovski rhinestones rain on small jars of crystal. A nest consisting of threaded natural fibers has been created specifically to hold the rose inside of the jar. The color of the roses and the light of the crystal mixed them up once again to give birth to a decorative object that can become a placeholder, a bonbonniere or a small gift idea, you know ... the classical thought.

We are always looking for cute and funny subject who can give positive emotions to whoever buy or gives Rosabella products. Last year we presented the jar with the Ladybug. For Valentine's Day it was the turn of the jar with the heart ... now here it is the new jar butterflies. They are subjects from which we let ourselves be inspired according to the season, according to the festivity, but they are so pretty to gift on numerous occasions during the whole year.

The butterfly has always been a strong sign of transformation and rebirth, a symbol of Spring. Butterflies are available in neutral version with two colored octagons, both in colored version; that is colored throughout with only two neutral crystals. The color of the rose is combined with the color of the butterfly, but other combinations are possible on request.

Rosabella is today a registered brand by Guerra l.E. sas. This is useful to protect our product which is original in its idea and in its name from imitations and abuses and to guarantee more safety to the customer, who can be sure of the product he is buying. You can find Rosabella collection in our shops all around Italy. A gift is always welcomed, but if it is Rosabella it will surely be a nice present...the unique rose that will make you be remembered in time!