Every rose has its own scent ...
Choose the rose and choose its fragrance ... The only stabilized real rose, embellished with Crystals from Swarovski that can be perfumed with the essence you like best.
This elegant rose can be kept forever in the special box, it will never fade because it is a flower that, thanks to a specific treatment, stabilizes by blocking aging when it has been cut to maintain its characteristics of freshness and beauty original over time.
You can perfume your rose every time you want thanks to the refill in the bottle.
The fragrances, tested in the laboratory, are the first and only, suitable for perfuming (without staining and ruining) artificial and stabilized flowers, especially roses. Just a simple spray drop on the flower is enough to renew the scent.
Six are the Rosabella Essence, distinguished by six different colors and six olfactory notes that represent them:

WARM ZONE: a citrus and spicy fragrance with orange and cinnamon. Solar.

SPICY VANILLA: an enveloping and warm scent of spicy vanilla. Intriguing.

NATURE WHITE: an innocent fragrance with a sweet tone of powdery white musk. Simple.

SEXY NIGHT: energetic and sensual like an endless night. Rosabella love potion. Mysterious.

FLOWER STORM: scent of flowering, of iris and white flowers. Concrete.

ROSES BLOOMING: delicate fragrance of a freshly blooming rose. Romantic.

We advise not to mix the fragrances. Every rose has its own scent.
It 'an original gift, designed to give you the opportunity to choose whether to give together perfume and the rose and fragrance that you like, or depending on the badget available to give separately even at different times the two subjects. You can also choose to give only the perfume that is useful both to perfume small rooms but also to customize gift packs or to give new fragrance to natural elements (such as woods, pine cones, cinnamon, pot-pourri , artificial and stabilized flowers) that can contribute to give olfactory pleasure in the home and in other place.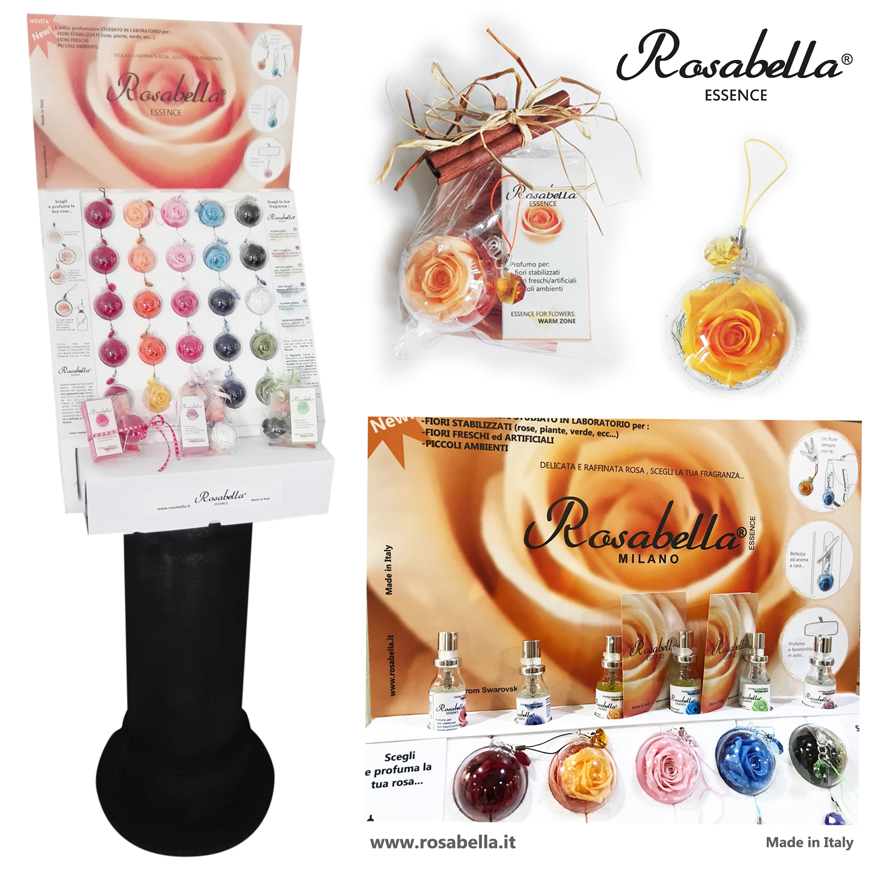 The methacrylate ball with the stabilized rose inside is designed to be hung in a car, in wardrobes, at home, on a bag, to embellish, decorate and also perfume. In fact, the sphere can be opened, and by sliding the front body on the back so as to lock it, the rose can remain open and be perfumed with the appropriate bottle Rosabella Essence, gradually release its fragrance over time in the surrounding environment. The duration of the scent varies according to the type of environment in which the rose is hung.
Visual and olfactory joy:

Rosabella Essence, a new way to perfume!
Rosabella Essence was presented at Homi Milano - September Edition 2017.